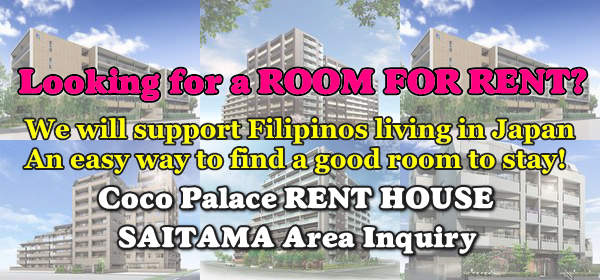 If you are looking for a room for rent in SAITAMA area
Please inquire to Coco Palace RENT HOUSE
Push "CLICK! Free Inquiry / SAITAMA AREA" button

We will reply and ask about your inquiry and request
If you find some interesting rooms,you can take a schedule for inquiries
You can check some rooms with a technical adviser (Free Charge)
If you find a good room, we have previous arrangement of contract of the room. (you can ask for more inquiries such as conditions for rental payment and more )
The signing of contract
You can now live and enjoy your new home!

COMING NEXT!
Tokyo / Kanagawa / Chiba / Gunma / ibaraki ...
Process 1 / Which area do you want to live?
・What is the nearest station you prefer to live?
・Approximate minutes of walking distance to the station?
・Do you prefer to take a bus?

Process 2 / Type of room
・What kind of room do you prefer?
・Do you prefer apartment type or house type room?
・How many approximate rooms do you want?
・How many persons are going to live?

Process 3 / Payment Contracts
Standard Legal fees based on Japan Law.

【Yachin】 Monthly rental payment of the room.

【Shiki-kin】 A security deposit as guarantee payment for any damages of the property until the length of stay. A tenacy deposit that will be handled back to tenant or renter when moving out after the room is generally checked out.

【Rei-kin】 A payment of reward for the owner of your room to stay. A one month deposit is usually given before you use your chosen house or room.

【Tesu-ryo】 The mediation or assistance fee to the real estate company. A one month rental payment is usually handled as a service reward.

【Hosho-ryo】 An payment to the warantee management to guarantee that you trusted and capable to pay the monthly rental payment to the owner of your room until your stay.